Crisp technology bridges divide for musicians

Steven Mazey

The Ottawa Citizen
Friday, March 29, 2002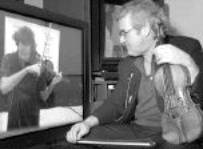 NACO director Pinchas Zukerman used videoconferencing to give tips to students in Montreal.
Two McGill University violin students played for Pinchas Zukerman the other morning, and though they were more than 350 kilometres away from where he was, Zukerman was able to watch and hear their every move, and was quick to offer pointers on how to make a better sound, how to position their fingers, how to play their instruments with greater ease.
Zukerman, the star fiddler and director of the National Arts Centre Orchestra, was sitting with his violin in a room at the National Research Council in Ottawa's east end, and he was watching near-lifesize images of the students on a 50-inch video screen. Students Véronique Mathieu and Andrew Beer, who took turns playing for him, were in a studio in Montreal, watching Zukerman on a similar video screen there.
As Zukerman offered pointers, the cameras, the monitors and the distance between teacher and students seemed to vanish, and it was easy to forget about the technology and focus on the lesson. Apart from two brief interruptions in the sound (corrected quickly by technicians), Zukerman and the students worked together as comfortably as if they had been in the same room.
"Save the bow when you start and you'll have more bow at the end. Bend your thumb. Bring your elbow down," Zukerman said as Mathieu played for him and responded instantly to his suggestions.
Teacher and students were brought together by the McGill Advanced Learnware Network and the latest in Internet videoconferencing technology.
Known as "ultra videoconferencing," the technology is being developed and tested by researchers at McGill in partnership with the National Research Council, the NAC and CANARIE, Inc., which operates the high-bandwidth Internet that makes the technology possible. Although videoconferencing has been available for more than a decade for things like business conferences between cities, the new system offers better sound and clearer images, and also eliminates the transmission delay of previous systems that sometimes made communication awkward.
With the new system, Zukerman and the students can play duets together and chat naturally.
Officials say the high-speed bandwidth will be accessible within five years, and offers rich potential for business communication and for education. Zukerman is using the system regularly to teach classes, and is excited about the way it could help organizations like the NAC reach out and teach young people across Canada. He's been enthusiastic about videoconferencing for a decade, but says the latest improvements in sound and image quality offer even more possibilities.
"This is incredible technology you're looking at," he told reporters.
"We can have a normal conversation rather than the pauses that happen on television. The human contact is extraordinary. Students can save these lessons on video and refer to them later. Eventually, we could have an archive library of lessons that students can use. There are all kinds of possibilities."
Zukerman had worked with the McGill students in two previous sessions, and they said they were already comfortable with the technology.
"It seems very natural even though he's there and we're here," said Beer, who added that the distance actually helped him get over his nervousness about playing for the famous violinist.
"I would definitely be more nervous if he were in the same room," he said.
As the technology develops, Zukerman said he would like to see the NAC create its own studio to offer such classes regularly and reach people across the country.
He recalled teaching a videoconference class recently for students in China who didn't speak English but could follow his instructions on video.
"These kids were thrilled. They sounded better, and you saw a smile 6,000 miles away. That's what this is all about," said Zukerman. "And it keeps getting better."
© Copyright 2002 The Ottawa Citizen